19 Aug 2019
ADDRESSING POVERTY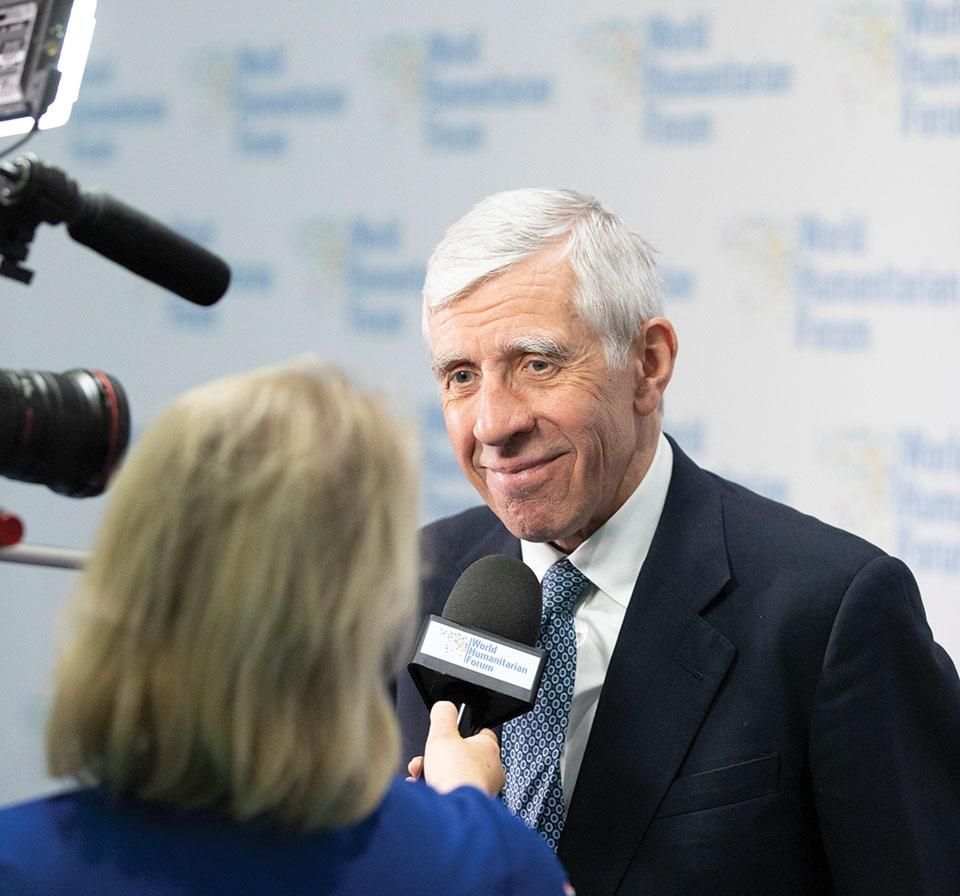 World Humanitarian Forum is pleased to welcome Rt. Hon. Jack Straw as the Chair of the Advisory Board and as the preparations are at a fast-pace, Mr Straw has taken the time to highlight his thoughts on World Humanitarian Forum 2020 and what will be on:
The World Humanitarian Forum is about challenging the status quo, we are about raising issues that must be addressed – from the refugee crisis, economic migrants to climate change and development. It is also about offering solutions on how to raise the much-required development aid, discuss financial models that work and highlight technologies that are game-changers in the humanitarian and development sectors.
Celebrating Changemakers

It is also about celebrating role models and changemakers. In a world that is getting far more insular and inward-looking, we aim to bring different parties to the table to discuss the biggest issues and find better solutions. WHF is a platform calling all stakeholders and individuals for action.
SDGs will be one of the key issues addressed at the World Humanitarian Forum 2020 and although they are too many, I believe we can reduce poverty and inequality through SDGs. Ending poverty in all its forms is the first of the 17 goals of the 2030 Agenda for Sustainable Development. It has been done in East Asia, China and India and can be done globally. As we know, in 1990, the UN made a commitment to reduce global poverty by 50% within 25 years. Though an ambitious goal, it has been achieved mainly due to the economic progress that China and India have made.
Aid and trade

To eradicate poverty and inequality, we need to go for a paradigm shift in how we address this. Aid alone will not do the trick. Aid should be used to attract private investment in some of the poorest countries in Africa. Some government policies such as CSR policy in India for companies with a turnover of Rs 1,000 crore have worked in addressing the issue. India introduced a CSR policy that they must commit to supporting initiatives that measurably improve the lives of underprivileged such as eradicate hunger, poverty, gender inequality etc Such policies can be replicated in other countries which will help address the development challenges I believe the idea that social welfare is a necessary first step towards achieving higher economic growth is a welcome one.

The East Asian nations rationalised that without raising social standards they will not be able to create the aspirational conditions necessary to develop a skilled workforce for industrial manufacturing, thus modernisation. Doubtless, the circumstances of individual countries matter a great deal in terms of what works. But, if the progress made in the past couple of decades can be replicated in some fashion - and tailored to individual countries - then it's possible to lift people out of poverty and inequality.
---
Jack Whitaker Straw is a British politician who served as the Member of Parliament for Blackburn from 1979 to 2015. Straw served in the Cabinet from 1997 to 2010 under the governments of Tony Blair and Gordon Brown. He held two of the traditional Great Offices of State, as Home Secretary from 1997 to 2001 and Foreign Secretary from 2001 to 2006 under Blair. From 2007 to 2010 he served as Lord Chancellor and the Secretary of State for Justice throughout Brown's Premiership. Straw is one of only three individuals to have served in Cabinet continuously from 1997 to 2010.
He was appointed Home Secretary after the 1997 general election and some of the policies he applied won praise from Margaret Thatcher who once declared "I would trust Jack Straw's judgement. He is a very fair man."
His autobiography "Last Man Standing" (Macmillan 2012) was described by the Sunday Times as a "well-told, humane, and entertaining tale of high office."